At Cardinal Home Care, we provide compassionate and professional home care services for seniors of all physical conditions and cognitive abilities. If you or a loved one is recovering from an illness, injury, recent surgery, living with a chronic disability, or just dealing with the natural process of aging, our dedicated caregivers are here to help. Our ultimate goal is to ensure that our clients achieve the best quality of life and to empower individuals to achieve their highest level of social, physical, emotional, and spiritual maturity.
Services are provided throughout Northern Virginia at personal residences, hospitals, nursing homes, assisted living facilities or wherever you or your loved one resides. Services are available for a few hours a day to 24-hour live-in care. We assure you peace of mind that your loved one is getting the highest level of care possible, with experienced, caring and compassionate caregivers. Our goal is to be the premier provider of professional caregiving services by offering exceptional customer service, quality caregivers, and compassionate care. Our clients are our priority!
Companion care at home offers seniors a way to maintain their independence while still receiving the necessary medical attention they need. With companion care, a qualified professional comes to the senior's home and provides personalized one-on-one care that caters to their specific needs. This allows them to remain in the comfort of their own home while still receiving quality health services and companionship.
Seniors who choose companion care at home are able to enjoy their freedom with confidence knowing that they are getting expert care and assistance in the privacy of their own homes.
Definition of Companion Care
Companion care services is a type of home care directed towards seniors who are looking for assistance with everyday tasks. This type of care provides companionship, support and help with activities around the home. It can be an invaluable asset in helping seniors maintain their independence and enjoy a better quality of life.
What are companion care services?
Companion care services provide elderly individuals with assistance from a qualified caregiver, allowing them to remain independent in their own homes while having someone nearby to lend support and companionship.
Caregivers typically perform basic tasks such as grocery shopping, meal preparation, light housekeeping, transportation, and errand running, as well as providing emotional support and companionship.
The goal of companion care is to help seniors stay safe, healthy and active while living in the comfort of their own home.
Benefits of Companion Care
Companion care at home for seniors is an ideal way to help elderly individuals maintain their independence and quality of life. It offers a range of benefits that can make all the difference in their day-to-day lives.
First, having a companion at home can provide seniors with emotional support and social engagement. Companions are trained to interact with seniors in an appropriate manner and build relationships that enhance their mental wellbeing. This may include conversations about current events, activities such as playing cards or board games, or even just being there as an ear to listen when needed.

In addition, companion care can provide seniors with physical assistance and support around the house. This includes things like helping with light housework, meal preparation, and transportation to appointments or errands. Having a companion who is familiar with the senior's routine and needs can give them peace of mind knowing someone is there for them if needed.

Finally, having a companion at home helps ensure the senior's safety while maintaining their independence. They have someone available to monitor their health conditions and provide any necessary medical attention if needed. Additionally, it's reassuring to know there is someone else present who can call for help in case of emergency or injury.
Companion care at home is a great way for seniors to remain independent while receiving the support they need to live comfortably and safely in their own homes.
What sets us apart from other agencies is our commitment to client care. Read more about our mission, vision and values!
Providing Companion Home Care in Fairfax, Arlington, Alexandria, Leesburg, Reston, Herndon, Manassas, Ashburn, Falls Church, McLean, and surrounding areas.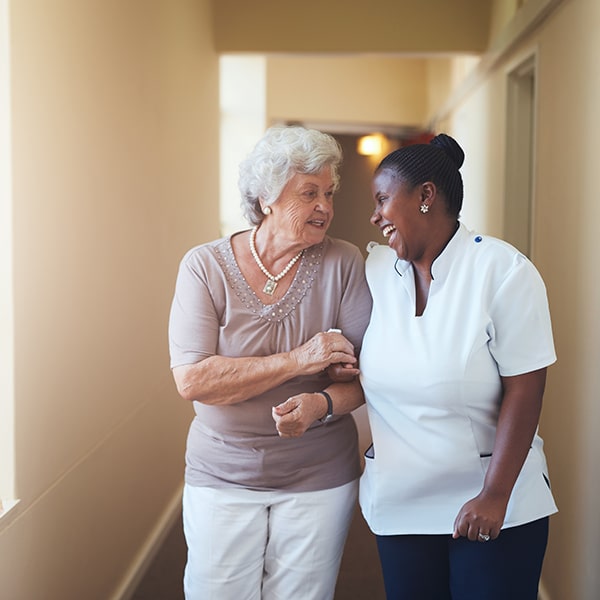 Types Of Companion Care Services
Companion care services for seniors can be likened to a fine-tuned orchestra. Each service works together in harmony to bring comfort and support to elderly adults. 
From grocery shopping and errands, to providing light housekeeping, help with laundry, transportation and even meal preparation, companion care is designed to make life easier and more pleasant for seniors who want to maintain their independence while still receiving the care they need.
Companion care also offers socialization opportunities, helping seniors enjoy life by engaging with them in activities they love. 
This might include going on walks or outings, playing cards or board games, reading books or magazines, or simply listening and being a friendly face when needed. 
No matter what the situation may be, having a companion provide support can make an elderly adult feel more connected and secure in their daily lives.
Safety Considerations For Seniors at Home
Caregivers should know how to identify potential hazards in the home environment and take steps to keep seniors safe from them. 

Caregivers should also be knowledgeable about first aid and emergency procedures in case of injury or illness while providing companionship at home. 

Additionally, they must understand how to use assistive devices such as walkers, wheelchairs, canes, and other mobility supports safely.

Other safety considerations for seniors include proper nutrition and hydration, regular physical activity, and preventive healthcare measures such as vaccinations and annual check-ups. 

In-home caregivers should be aware of any special dietary requirements that seniors may have due to medical conditions or allergies. 

They should also help seniors remain active by suggesting enjoyable activities that are tailored to their individual needs and abilities. 

Lastly, caregivers should remind seniors when it is time for their scheduled doctor visits so that they stay up-to-date on their preventive healthcare needs.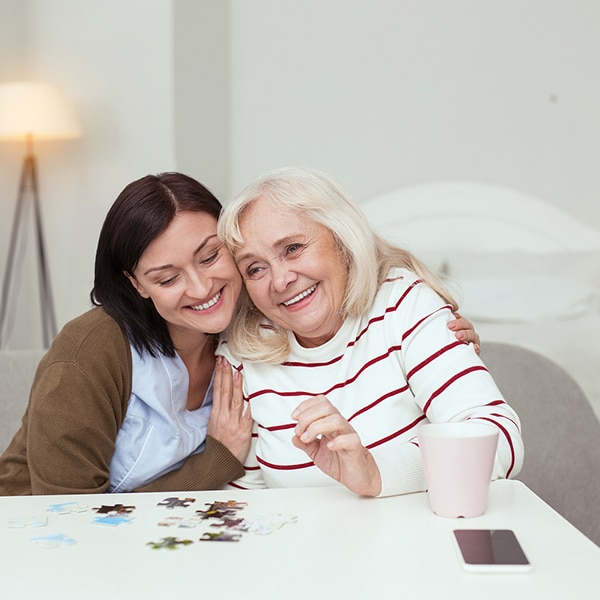 Education On Aging-Related Issues
Education on aging-related issues can be a valuable benefit for seniors who receive home companion care near you. Many seniors may be unaware of the potential risks, and benefits, associated with aging—knowledge that is essential to making informed decisions about their health and well-being.
At-home companion care providers can offer educational materials and resources on topics such as vision loss, fall prevention, nutrition, financial planning, and more. 
They also provide hands-on demonstrations of simple exercises that increase strength and balance, which can help reduce the risk of falls or injuries. Additionally, they can offer advice on how to remain socially active in order to combat loneliness or depression.
Organizations like the National Council on Aging (NCOA) provide a wealth of information on topics related to aging including resources on accessing services related to healthcare coverage options and long-term care. 
Local communities may also provide support groups or activities designed specifically for seniors. Home companion care providers are an invaluable resource in providing seniors with education about aging-related issues so that they can make informed decisions about their health and quality of life.
As seniors age, they may find they need additional help with their daily activities. Housekeeping services are a great way to keep seniors safe and comfortable in their own homes. They provide the necessary support to complete tasks that can become increasingly difficult with age.
Housekeeping services can range from basic cleaning to more involved duties like laundry, grocery shopping, and meal preparation. 
These services can be tailored to meet individual needs and preferences, making it easier for seniors to remain independent for longer. Professional caregivers will work with family members and other care providers to ensure that all needs are met and expectations are met.
Housekeeping services are also available for seniors who live in assisted living facilities or other long-term care communities. 
These services may include light housekeeping, laundry, and meal preparation as well as assistance with medication management and transportation services. 
By providing these services in addition to traditional medical care, seniors can maintain a higher quality of life while receiving the necessary level of care they need in a safe environment.
Read the kind words from previous clients. Our testimonials help families discover how dedicated we are to customer satisfaction.
How Does One Go About Finding a Suitable Companion Care Provider?
The good news is that there are several steps you can take to locate a suitable care provider. To get started, here's a rundown of what you need to know:
Consider Cardinal Home Care!

Give us a call and ask questions.

Do your research

– Take the time to read up on companionship services in your area and ask around for recommended providers.

Conduct interviews

– Once you have narrowed down your list of potential candidates, schedule a virtual or in-person interview with each one to get a better idea of their qualifications and experience.

Ask questions

– Make sure you ask any questions you may have about the provider's services, including how they handle emergencies and medical conditions.

Check references

– Request references from the provider and call them to get an honest opinion of their work ethic and capabilities.
Like looking for any service professional, finding a reliable companion care provider requires some investigation on your part. 
With the right resources and due diligence, you'll be able to rest easy knowing that your senior is receiving quality care from a reputable caregiver.
Communication and Companionship
Good communication and companionship can be difficult to find as you age. Seniors often face isolation or loneliness as they transition into a new life stage, but companion care home care provides a way for them to stay connected with the world around them.
A professional companion care provider is an expert in understanding and responding to the needs of seniors. They have the knowledge, skills, and experience necessary to engage seniors in meaningful conversations, activities, and events that promote socialization and connection. 
The support of a companion care provider helps seniors feel valued, supported, and engaged in their daily lives
Here are some benefits of having a companion care provider:
A sense of belonging: Companionship helps seniors feel more connected to their communities and loved ones.

Increased motivation: A companion encourages seniors to stay active by participating in activities that are interesting and engaging.

Improved well-being: Socializing with others can reduce stress levels, improve memory function, and increase overall happiness.
With the right kind of support from a compassionate companion care provider, seniors can bridge the gap between their current lifestyle and their desired level of engagement with the world around them. It's an investment that pays off in increased socialization opportunities and improved mental health outcomes.
Considering home care in the Fairfax VA area? Learn how we can help your aging loved one live their best life in the safety of their home.
For seniors living at home, taking the right medications is essential. But it can be difficult to keep track of when and how often to take them. Fortunately, many companion care companies offer medication reminders as part of their services.
These reminders can be customized to fit an individual's needs. A caregiver or companion will help ensure that all prescriptions are taken according to the prescribed schedule. 
They'll also remind seniors to refill prescriptions when needed and provide support if there are any side effects or difficult-to-swallow pills. 
This can give seniors peace of mind knowing that they have someone looking out for them and ensuring their health and well-being. And with the help of a companion, they can maintain independence while still getting the support they need.
Medication reminders provide important assistance for seniors living at home, allowing them to enjoy freedom while ensuring they receive necessary care.
Meal Preparation and Nutrition
Similarly, meal preparation and nutrition are also key components of a healthy lifestyle. By providing seniors with the right food choices, their overall health can be improved significantly.
Meal preparation should involve fresh fruits and vegetables, lean meats, whole grains, and low-fat dairy products. These foods contain vitamins, minerals, and other nutrients that can help to boost energy levels and maintain or improve overall health. Seniors should also stay hydrated by drinking plenty of water throughout the day.
Eating nutritious meals helps seniors to stay active and independent longer, which increases their quality of life. It's important to ensure that seniors get enough calories each day for optimal health and wellbeing. 
If necessary, there are home companion caregivers who can provide assistance with grocery shopping, meal planning, and preparing meals that meet nutritional guidelines. With the right support in place, seniors can enjoy delicious and nutritious meals every day while maintaining their independence.
Transportation and Accompany to Appointments
Transportation and accompanying to appointments for seniors can be a great way to maintain their independence. A companion for care can provide transportation and accompanying services for seniors who may not be able to drive themselves or are unable to take public transportation. Here are some of the benefits of this type of service:
Safe, reliable, and comfortable transportation

A caregiver who is familiar with the area and can provide assistance in getting around

A companion who can provide emotional support during travel
With a companion for care, seniors can have the peace of mind that they are safe while traveling. They will also benefit from having someone to talk to who understands their needs and concerns. This type of service helps promote senior independence and allows them to remain active in their community. It's an invaluable resource that can help keep seniors connected to family, friends, and activities they enjoy.
Cardinal Home Care provides 24-hour home care, with compassionate caregivers that promote safety and happiness.  This gives you peace of mind knowing your loved ones are covered.